The 12V Car Charger is the simplest way to power your Thinkware Dash Cam. This plug-and-play cable will power the Thinkware Dash Cam while in Continuous Mode only.
The Dash Cam will be unable to utilize the Parking Mode Features when powered with the 12V Car Charger. This cable is included with most Thinkware Dash Cam bundles.
In most vehicles, the 12V outlet will stop providing power with the ignition off. However select domestic vehicles may have an always-on 12V Cigarette Port.
If this is the case, the 12V Car Charger is not for you, and we'd recommend installation with the Hardwiring, OBD-II Harness, or iVolt Battery Pack.
With an always-on outlet, the dash cam will stay powered at all times regardless of the ignition.
Since the dash cam is unable to enter Parking Mode with the 12V Car Charger, the dash cam will not have any battery protection features active such as; the Record Timer, or Voltage Cut Off.
As the dash cam is unable to power off when your battery is getting low, this risks draining the battery completely.
You will need to manually unplug the Dash Cam each time when leaving and entering the vehicle to ensure no drainage occurs.
When the engine and electrical accessories are turned off, connect the car charger to the product's DC-IN power port and insert the cigar jack into the vehicle's power
socket.
*The location and specifications of the power socket may differ by vehicle make and model.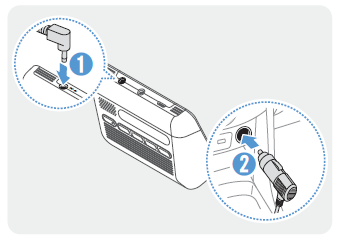 *Use the authentic THINKWARE car charger. The use of a third-party power cable may damage the product and
result in electrical fire or electrocution due to the voltage difference.
*Do not cut or modify the power cable yourself. Doing so may damage the product or the vehicle.
*For safe driving, arrange the cables to prevent the driver's vision from being obstructed or interfering with
driving. For more information about arranging cables, please click HERE.