The External GPS Antenna is compatible with the F70, F200 PRO, X800, and X1000 Dash Cam models.
The GPS Antenna records your speed and location and embeds this data into each video file.
The GPS will also warn you audibly about upcoming Red Light and Speed Cameras while driving.
The GPS Data such as location and speed can be accessed using the Thinkware Dash Cam Viewer application on a PC or Mac computer.
1. Front Thinkware Dash Cam
2. Thinkware External GPS Antenna
3. Microfibre Cloth
4. Glass Cleaner
1. Clean the front windshield with the microfibre cloth and glass cleaner. This will ensure the adhesive has a stronger bond to the glass.
2. Connect the GPS Antenna to the GPS Port of the front dash cam while it is powered off.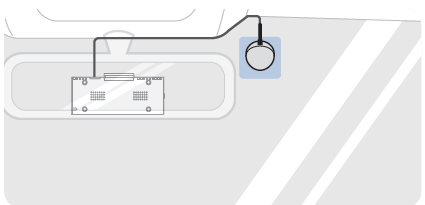 3. Peel the red adhesive covering off of the GPS Antenna.
4. Mount the GPS Antenna. The GPS Antenna should be mounted away from the Main Unit of the Dash Cam to reduce noise interference.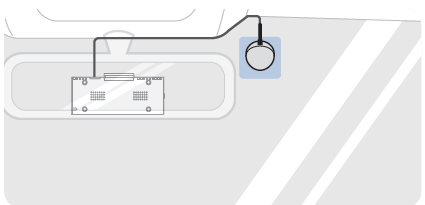 5. Power on the Dash Cam and wait to hear "GPS Connected"
*GPS reception may be affected by interference from the vehicle's windshield, particularly those treated with an anti-UV protective coating, or built-in defroster.
You have successfully installed the External GPS Antenna!
If you have any questions or concerns regarding the installation of the GPS Antenna, please reach out to our team at support@thinkware.com or 1-844-865-9273.